IM BACK. YES I AM. I'm back from a 5-day long writing camp. Wifi at last. Unfortunately, I haven't been reading that much since my best friend from camp was constantly making me read Homestuck fanfics, but not to worry, I'm back on track. My next review will be up soon!
This week's feature is
Rainy Day Reads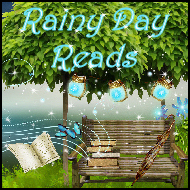 This week's question:
Q: Have you broken up with a series? If so which one and why?
Indeed I have. Plenty. For example, the Vampire Diaries. I originally started the series, and thought it was okay, but the plot started taking some weird and repetitive elements, and eventually got a bit ridiculous (in my opinion that is) and thus marked the end of our romance.
Let me think of a TV series. Torchwood. I mean, the first few seasons were completely brilliant, of course. And it just got awesomer and awesomer. But then season 4 happened, and they tried to incoporate Americans. Basically everyone was American except the original cast. Which was just plain weird. And so I just....dumped it. Yeah. Thus summarizes my tragic love life. Sigh.